prof. Drobne invited speaker at XXII CONFERENCE OF THE ITALIAN ASSOCIATION OF DEVELOPMENTAL AND COMPARATIVE IMMUNOBIOLOGY
Italian association of developmental and comparative immunobiology organised a conference on Developmental and Comparative Immunobiology. prof. Drobne was invited speaker and gave a talk entitled " Stem Cells and Innate Immunity in aquatic Invertebrates: which relationships?". Find the full program here.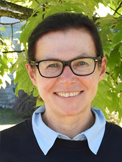 Biotechnical Faculty University of Ljubljana Večna pot 111 1000 Ljubljana Slovenia +386 1 320 3375
email
|
bibliography
Bionanoteam is a research group at the Biotechnical Faculty, University of Ljubljana. Founded in 2008 by Prof. Damjana Drobne, Bionanoteam currently consists of 3 experienced researchers, 2 PhD candidates, 1 technical assistant and a number of graduate and undergraduate students. Damjana is a Professor of Zoology and Professor of Toxicology from University of Ljubljana. With over twenty years of research experience, she is the founder and principal investigator of Bionanoteam.